INDIA, nell'epoca coloniale Inglese
THE INDIAN ARMY
I had been always attracted by the colourful attires of the Indian Army of the period 1880-1910 and I would like to add to my collection a set of flat figures complete enough to give an idea of the various cavalry and infantry regiments.
I had some good books and colour references for this subject, among which many fine watercolours of Major Lovett and it seemed a pity to leave all this documentation unused.
I made accurate researches by the different Editors, but I did not find what I wanted. In fact, I found many figures of the Indian Mutiny (1850) by the following catalogues: Western Miniatures, Neckel and Wohlmann; but not in the period of my interest.
In reality, the Wohlmann catalogue has some figures of the Indian Army at the end of 20th century and I bought many of these figures even if they are of the type with the rider to be glued or soldered to the horse and not enough accurate (however of good looking when painted, expecially for diorama use).
After waiting several years hoping that some Editor would issue the figures of my dreams, at last I decided to produce myself a series of figures of the Indian Army.
Taking inspiration from the documentation I had, I made the drawings (front and rear) and the reductions to 30 mm scale, I contacted two engravers (Dr.G.Söllner and B.Süssmeier), sent the drawings and documentation and waited for the figures.
I choosed subjects with the possibility of different painting solutions, in order to have the maximum of uniforms (eventually with some little modifications) with the minimum of figures.
The first group of figures includes 4 cavalry figures and two foot figures.
Indian Army : produzione nuova serie di 6 piatti sull'esercito inglese nel periodo coloniale e tavole a colori
(disegni: Gianpaolo Bistulfi_ Incisione: G. Sollner e B. Sussmaier)
Here you may find some painted figures. Many painting schemes are available. Many more if you apply little modifications.
| | | |
| --- | --- | --- |
| | | |
| 1th Lancers- Skinner Horse | 4th Madras Cavalry-British Officer | 6th King Edward's Own Cavalry |
| | | | |
| --- | --- | --- | --- |
| | | | |
| 14th Sikhs | From left: 34th Horse, 18th Lancers, 19th Lancers | 27th Light Cavalry | Hydebarad Contingent Infantry & 15th Ludiana Sikhs |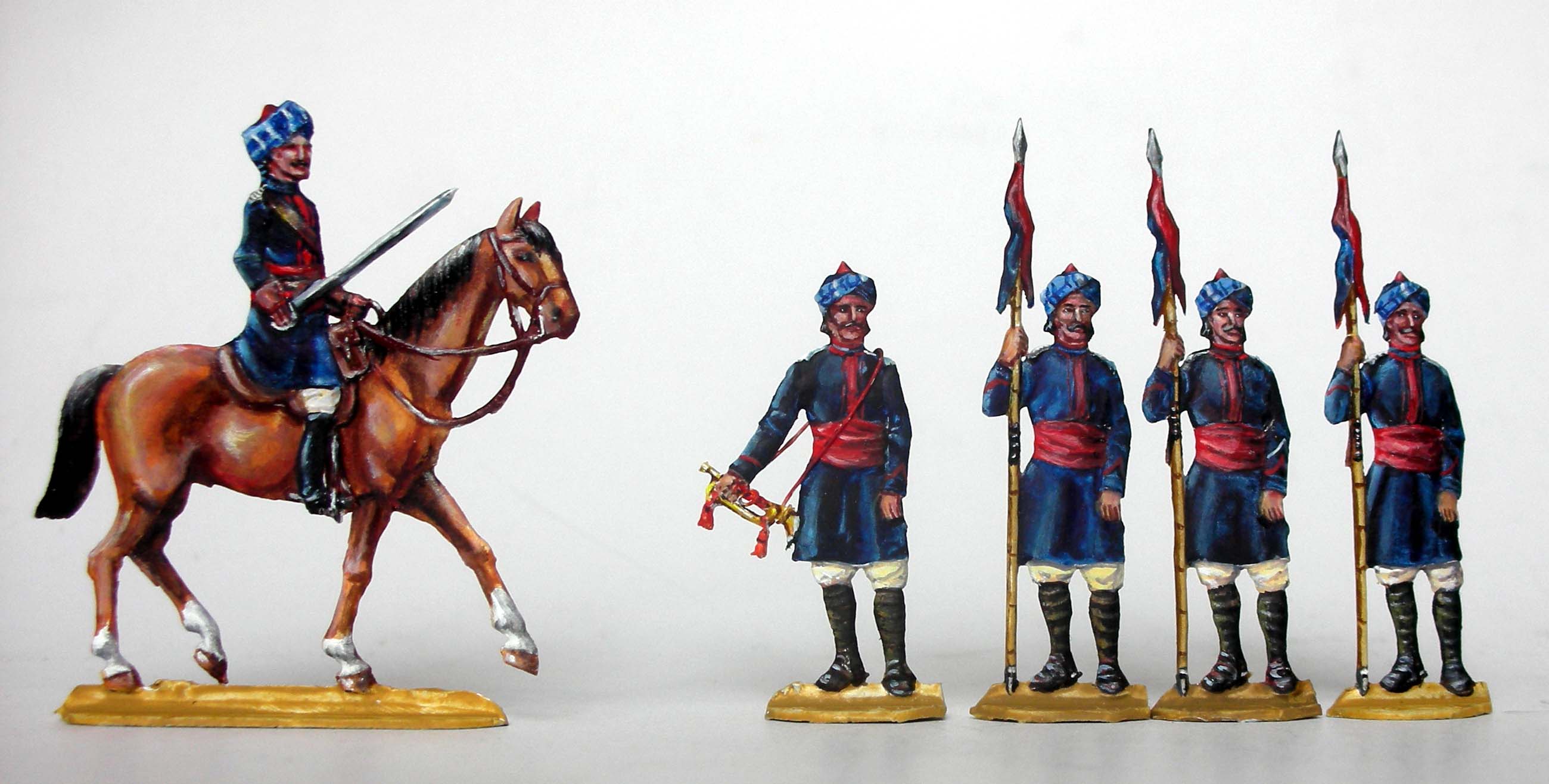 Cambridge Lancers revue, after a watercolor by Lovett, obtained by the figures above with little modifications
Figures painted by Luciano Leni

This figure was obtained by heavy modification of the figure N.4 in the table, by sculpting the drummer in Milliput, and adding further features

The Indian Army, painted by Luciano Leni. At left enlargement of the Kettledrummer (11th King Edward's Own Lancers)
COLOUR REFERENCES (from Indian Cavalry Regiments-Almark, see Bibliography)
click the images to enlarge
click the images to enlarge
click the images to enlarge
Bibliography:
Indian Cavalry Regiments 1880-1914, by A.H.Bowling- Almark Publications
The Armies of India by G.F. Mc Munn - Crecy Books (the watercolours of Major Lovett were also available as postcards by The Army Museum of London)
An Assemblage of the Indian Army Soldiers & Uniforms, by Michael Glover - Perpetua Press
The Indian Army, by Moris Mollo - Blandford Press
Skinner's Horse, by C. Rothero - Almark
CAMPAIGNS N°49
MAA Indian Infantry Regiments 1860-1914
MAA 91 Bengal Cavalry Regiments 1857-1914
Britain & the Empire, by Major M.Barnes -Seeley Service
INDIAN MUTINY

Gruppi Western Miniatures ed Heinrichsen
Gruppi Western Miniatures ed Heinrichsen
Indian mutiny (figure Neckel)
Indian mutiny (figure Neckel)

Native Officers and Ludhiana Siks infantry - Heinrichsen figures
| | | |
| --- | --- | --- |
| | | |
| Madras Light Cavalry, 1848 (Figures KILIA) | Price Alfred Cavalry, 1860 (Figures KILIA) | King Dragon Guard, 1848 (figures Neckel) |

Royal Artillery (editore Western Miniatures)

ARTIGLIERIA: trasporto cannoni su elefanti (figure Western Miniatures)
India 1850 - Figure Rieger
| | |
| --- | --- |
| | |
| India 1850 - Figure Neckel | India 1850 - Figure Rieger |